Boston Kitchen Remodeling
Offering More than 25 Years of Remodeling Experience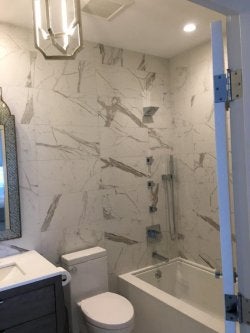 Have ideas for your kitchen or bathroom? Contact us to get a conversation started – to learn what's possible and how much it could cost. We may be able to provide suggestions to enhance your vision. Or other possibilities that you haven't considered. But you need to take the first step and contact us today by calling (617) 847-3053.
Are you growing tired of your cramped or outdated kitchen? Don't move—remodel! At Martin Kitchen and Bath, our remodeling professionals have more than 25 years of remodeling experience and can ensure you have the kitchen of your dreams when we finish your project. Your satisfaction is our number one priority, and each member of our team will go above and beyond to build the kitchen of your dreams. Call us at (617) 847-3053 to learn how we can make your dream kitchen a reality!
We differ from other Boston kitchen remodeling companies because:
We offer timely and high-quality work
We serve the greater Boston and Eastern Massachusetts area
We offer complete bathroom remodels including changing tubs, tile, floor, sinks and more!
Love Where You Live
From adding square footage to your kitchen to changing the countertops and flooring, we can do it all! No project is too simple or complicated for our team. Our team is skilled in various areas of remodeling and have helped hundreds of homeowners enhance their homes. All our remodeling services are affordable and we utilize the highest-quality materials and products so your remodel can last. Your home is where you spend most of your time, and we want you to enjoy every minute.
We offer the following remodeling services:
After 25 years of general contracting, we now exclusively specialize in kitchens and bathrooms. When you need a reliable, affordable, and timely kitchen and bath remodeling company, you can count on us at Martin Kitchen and Bath! Once we determine a timeline for your project, our team of professional tradesmen will adhere to it and finish your kitchen/bath on time, so you can have your kitchen/bathroom back to normal in no time.
Contact Martin Kitchen and Bath Today
Don't hire an expensive, less experienced company when you can work with us at Martin Kitchen and Bath. Our experience allows us to finish projects when we say we will, and also provide the best possible remodeling services—without charging you excessive amounts of money. Free estimates are available for all our services, so call us at (617) 847-3053 today!